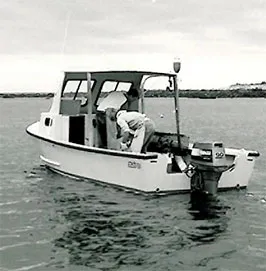 Eastern Boats began in 1981 building one model – an 18' Classic designed by the Dean of Downeast designers, Royal Lowell. Our first facility had two small bays for assembly and glass shop space for two small hulls at a time. Now forty years later, we're still building the downeast boats that have launched the careers of many and provided years of memories.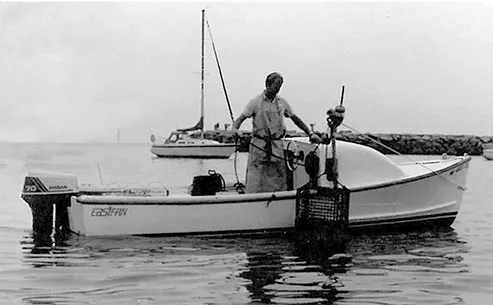 A few years later, we added the 22' model and offered it as a center console or Lobster cabin. Bob Bourdeau went to work for Eastern in 1989 and purchased the company in 1993. In 1992, we bought the molds to a sweet 27' Royal Lowell hull and began offering it in both center console and Lobster cabin configuration.
The early days of Eastern Boats
After a devastating fire in the fall of 1993, Eastern moved its entire operation to a new shop in Milton, NH. In 1994 we acquired the well-regarded JC 31 and JC 35 hulls, which have built a long track record as charter fishing boats and cruising motorboats. Since then Eastern has acquired other molds and redesigned models, parts, and manufacturing systems to develop our current offerings.
In the fall of 1994, we built a 50' X 100' addition to our facility in Milton which became our new glass shop.
The growing popularity of Eastern boats caused us to build a new office and assembly shop in the Milton Industrial Park in 1999. We followed that up with two more buildings in 2002 and 2003. Eastern Boats currently operates out of over 30,000 square feet of manufacturing space, with separate buildings for fiberglass, assembly, and rigging operations.
In 2012, we introduced our wide-beam 27 Tournament and Islander for hard-core anglers and cruisers, and last year, we bought the molds for the 22 Sisu, bringing that legendary hull back to its New Hampshire birthplace. Now, Eastern Boats continues to move forward, building high-quality, rugged, and fuel-efficient Downeast-style boats.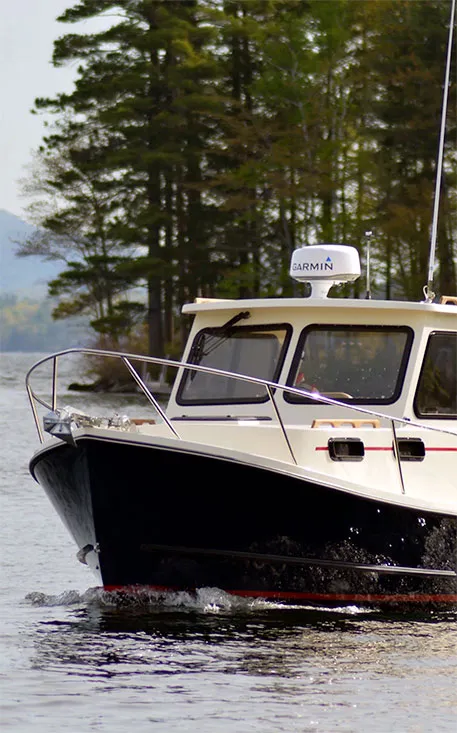 In 2011 we bought the molds for the 22 Sisu, bringing that legendary hull back to its New Hampshire birthplace, as we continued to move forward, building high-quality, rugged, and fuel-efficient Downeast-style boats.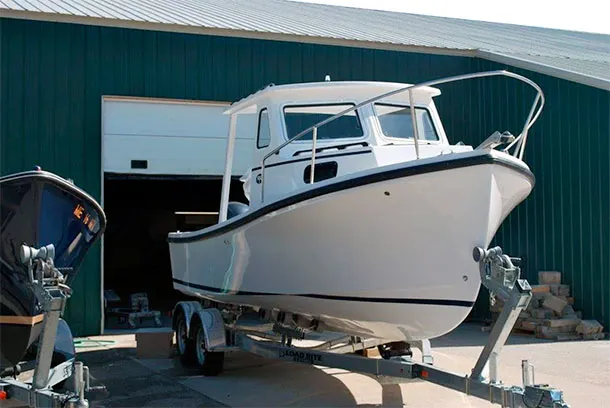 Rosborough Comes To Milton, NH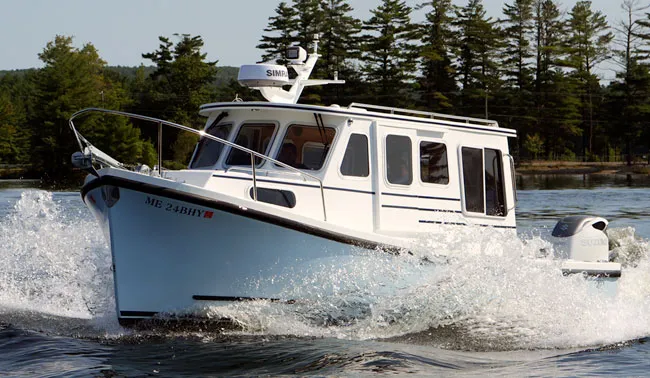 Rosborough Boats, Inc. began in Halifax, Nova Scotia in the mid-1950s by James "Doug" Rosborough, a well-known boat designer and builder. He designed and built countless numbers of traditional schooners, brigantines , sloops and ketches all from wood. He would get a commission for a boat which he would design, then contract with a Nova Scotia builder to execute. He would then move into the yard and take over the crew to supervise the entire construction.
In the early 1980s his son James "Bob" Rosborough came into the business and developed the first fiberglass designs. After experimenting with an 18', 28' and 35' design he finally hit upon a 25' boat that became the Rosborough RF-246. The first boat was delivered in 1987.
After 25 years and almost 500 boats, Bob Rosborough sold the molds to Eastern Boats, Inc. in Milton, NH where we continue to honor the design and standards that have proven to be a winner.
Soft riding in a head sea, stable in a beam sea, and predictable in a following sea. Although technically the hull design is not a trawler, the function is such that became known as the first "trailerable trawler".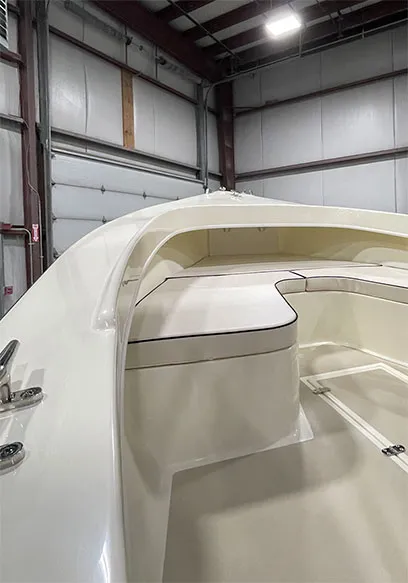 A True Downeast Classic
Seaway Boats History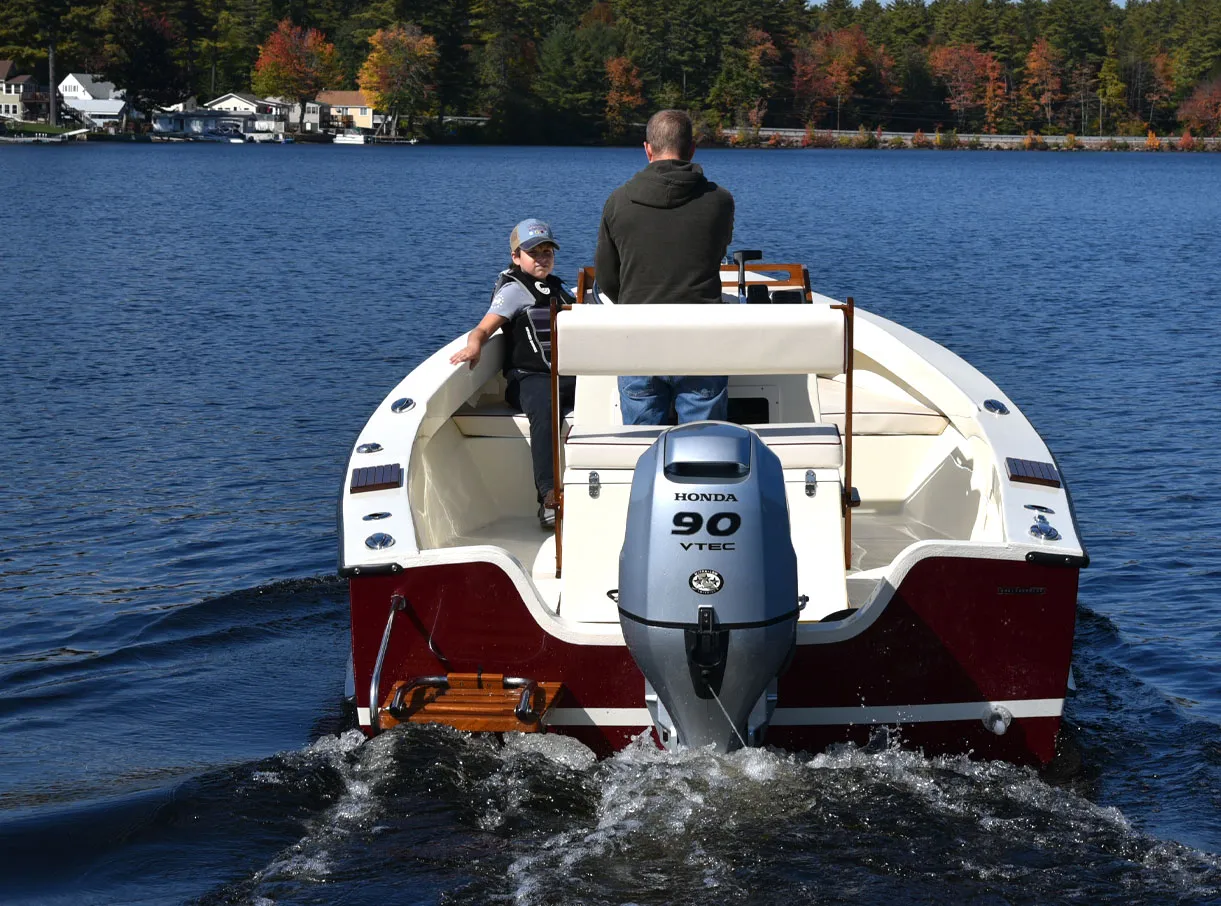 In the 1970's Harry Farmer founded Seaway Boats. Seaway built a name and substantial dealer network with their downeast-style boats that were distributed up and down the East Coast. The company took a break thru most of the 90's and reemerged in 2001 working out of a new facility in Oxford, Maine.
Seaway's comeback got underway with a newly redesigned 21' hard chine hull which quickly escalated to their current lineup of 18' 21' and 24' models. With their downeast flare, wide beam and extensive woodwork, Seaway was back to what they were known for, offering a center console version with the 18' model and both center console as well as bass boat "Seafarer" style with their 21' and 24' models.
The economic downturn in 2008 proved to be the final chapter of Seaway boats. In 2009, Eastern Boats recognized Seaway as a close competitor and was fortunate enough to be in a position to purchase Seaway Boats and relocated the companies molds from Maine to their Milton, NH facility. Eastern Boat Works continues to build the Seaway line as well as build up the line with new models and features.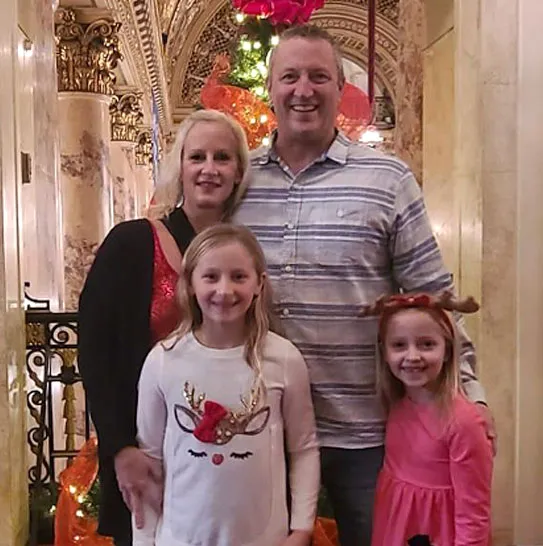 Greg Hopkins
President
Greg and His wife Jessica were both born and raised in Connecticut. Greg's family has owned a house on the lake in Milton NH since 1999. They moved there in 2008 where they have been living ever since.
They have 2 girls Ellie 10 and Gia 7 and their dog Charlee, who has become the lake dog everyone knows. They enjoy skiing and snowboarding, fishing, boating, basically anything that has to do with the outdoors. Before buying Eastern Boats, Greg owned a financial firm in Barrington NH. His love of boats and the water made him want to own Eastern Boats. After an 11 yr friendship with the previous owner, Greg purchased Eastern Boats in 2019, and feels like this is where he belongs. Greg enjoys every day at Eastern Boat Works and finds himself dedicated to working with his staff, the community he lives in, and helping each boat owner's dreams come true.
Read More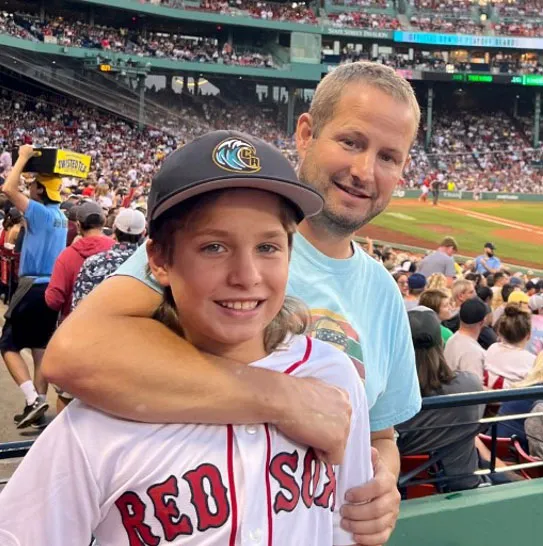 Jason Shearn
Vice President
Jason has been a part of our crew for the last 24 plus years, he started out in the shop and eventually worked his way up into his position now, Vice President.
In his free time he likes to fish, ski, go boating, attend his sons sporting events, and anything motorsports related. Jason's wife Jess also works here at Eastern Boat Works.
Read More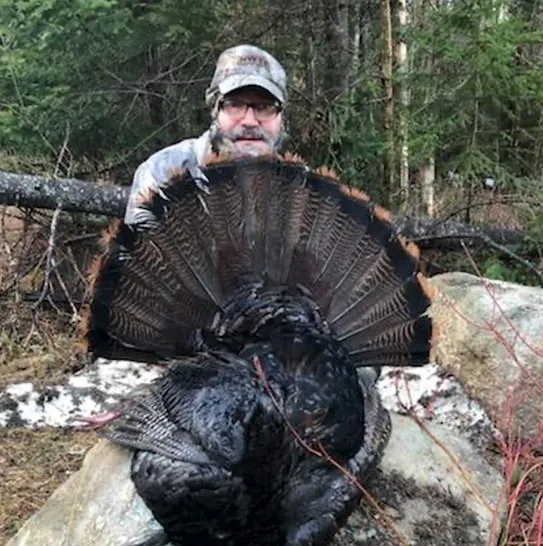 Keith Henner
Lead Builder
Keith has been a part of our crew for the last 26 years. He is the lead builder of Rosborough boats and assists with Seaway boats. In his free time he likes to hunt deer and turkey and fish all year.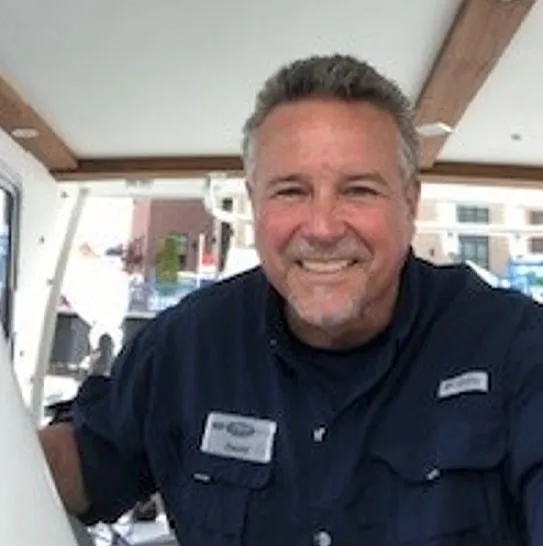 David Doskocil
Sales Consultant
David has been on our crew for the last 3 plus years. After 30+ years in the energy industry he made the change to do something he really enjoys doing which is being in or around boats.
Working with the team at Eastern, helping customers customize their boats and showing them their boats as they are completed has been a very rewarding experience. David's free time is spent outdoors as much as possible. In the summers he enjoys boating, fishing, golf and landscaping around his home and woodlot. In the winter he enjoys being outdoors Skiing, snowshoeing and enjoying the seacoast without the crowds. David and his wife are lucky to have 4 grown young men who live nearby and now have 5 grandkids that they thoroughly enjoy.
Read More
Pat Costin
Sales Consultant
Pat has been on our team for a little over a year. Before working for Eastern, Pat worked for a local police department as a detective. He was also a high school football coach at York High School for the past five seasons.
Pat enjoys spending time with his family and spends most weekends at his family's camp in Maine or on Milton Three Ponds. Pat's wife Ali, son Kaden, Daughter Carsyn and dog Dash love spending time at the beach or on the boat.
Read More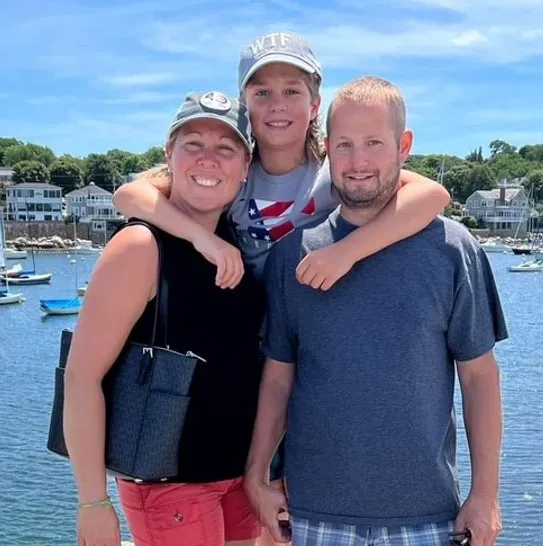 Jess Shearn
Sales Assistant
Jess has been a part of our crew for 7 months, she assists our sales teams with each sale beginning to end. In her free time she likes to ski, go boating, spend time with family, play board/ card games and cook.
She is married to Jason Shearn who also works for Eastern, they have a 12 year old son Jax and a spunky german shepard named Nautique.
Read More